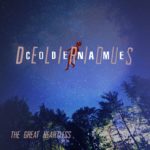 The Great Heartless is a 9-song, quick-twitch effort that at times defies its own, self-established label of metalstep/dubmetal.
Under the imposing cover of crunching metalcore guitars and brostep bass sounds lies a set of influences and sounds borrowed from a variety of electronic music subgenres perhaps meant to keep the listener guessing.
No worries, though: the emotional vocal performance of Omar and the modern, aggressive sound chosen for the band by Exotype producer Matt Johnson are there to put the metal in metalstep.
Genre: dub-metal/metal-step
Catalog number: AR-055
Out: 30th October 2018