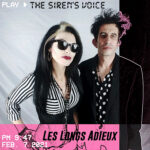 The Siren's Voice is the third single of Les Longs Adieux, a New Romantic inspired tune with a Dark flavor.
Elegant arrangments, epic vocal lines and gloomy guitars parts build the perfect outfit for this melancholic song.
The lyrics for the first time are completely in English, tragic ans ethereal at the same time.
Genre: retro-wave/synth pop
Catalog number: AR-072
Out on 24th February 2021