The Italian indie/rock band SVIET MARGOT will play at Re:Public Club in Minsk (Belarus) on Saturday, 3rd November 2018.
In 2016 the band has been involved in an European and Italian tour for the promotion of the album "Glance To Infinity" (Agoge Records).
Sviet Margot has also partecipated at Faine Misto Fest 2017 in Ternopil (Ukraine), alongside with artists like Guano Apes and Korpiklaani.
In the same year the band has played in Russia and Belarus as special guest of indie-rockers Poets Of The Fall, and then sharing the stage with gothic rock legends 69 Eyes in Estonia.
Soon they will enter the studios to work on new album.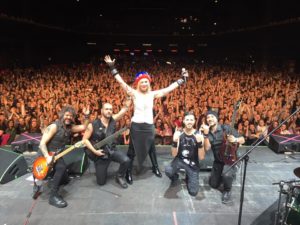 SVIET MARGOT:
http://www.svietmargot.com/
https://www.facebook.com/svietmargot/
AGOGE RECORDS:
http://www.agogerecords.com
https://www.facebook.com/Agogerecords/